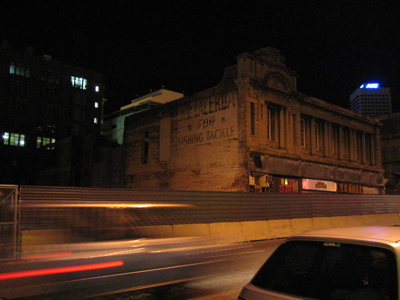 There's nothing quite like the first night in an unfamiliar
town. Walking for miles with Lee Hazlewood on the headphones, not
wanting to eat at the first place you see in case you find somewhere
better. Looking for a quiet "on the way home" drink in a bar that's
not too full and not too empty. Peering down alleys and streets,
wondering what you'll find and what you'll miss. Girls laugh nervously
by the train station. Kids strut across the street, against the
lights. A shop called 78 Records is closed, but has a heap of mounted
gig posters on display in a large, lit window. I end up trying the
hotel bar, neon beer ads reflected in the glass table tops whilst the
denouement of a football match occurs silently on a tv across the
room. It's time for a shower, an early night. I've got the whole of
tomorrow to explore, before the work starts.